Eduardo R. Servello AMC
C i n e m a t o g r a p h e r

Represented By
Agent: Chandra Feltus
chandra@neermotion.com
Eduardo R. Servello is originally from Mexico City currently lives in Los Angeles. Throughout his career he has participated in different independent circuits and international festivals. He completed a major in Cinematography and has also taken international courses in art history and contemporary art. He has stood out in the cinematographic field having some documentaries such as The Last of the WInthrops (France, Swizerland, UK, Canada and USA), Bushido Battleground produced by the Rey Network and filmed in Thailand, USA, MX. among other documentaries and series. He also photographed the first Zombies movie in Venezuela "INFECTION" which currently has distribution in 26 countries and has found its place in festivals in different places. Eduardo has in his vision a diversity in the search for images that become an appropriate medium for each story. Within his work he has also made art street photography that has been exhibited in museums and some printed publications, commercials and music videos.
Film Stills:
---
What if everything you believed about yourself was a lie? THE LAST OF THE WINTHROPS explores the secrets of a woman who struggles to reclaim her sense of self after a life-altering revelation.
Viviane Winthrop must confront the seismic truth that her father, Reginald Winthrop, who could trace his heritage literally to the founders of America, is not

Through archival footage and private letters and recordings, we journey through the secrets that Viviane's mother planned to take to her grave. Moving fluidly between past and present, the film follows Viviane on an epic journey across five countries and hundreds of years to find out who she thought she was…and now knows she truly is.

Struggling with her new dual identity, Viviane attempts to find peace while wrestling with powerful themes about love, blood and family.
---
Series / Fiction
The UN/D esirables
Dir. Charlene Bagcal
Trailer
During the global decline and when people's vulnerability runs high, strange worldwide broadcast commercials laced with propaganda, promote safety and security in a mysterious new country called Lancer. The ads invite people to apply for residency by submitting a
personal video stating why they should be selected the honor to live in Lancer. Our hero, Simone Stone, is being hunted down by U.S. authorities for disclosing the government's plan to wipe out entire minority and low-income communities through biological warfare. Mass anti-government protests ensue soon after causing riots nationwide. The ruler of Lancer, Dagmar, personally reaches out to Simone after hearing her story on the news and offers to provide her with asylum in Lancer.
FILM STILLS:
---


Docu / Series.
Bushido
Battleground

Documentary series broadcast on television in different Asian and American countries. Where the careers of fighters from different Instagram martial disciplines are exposed, their preparation, the environment that moves them until they reach the fight and the outcome after victory or defeat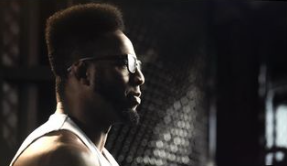 ---